I was proud to be asked to photograph newborn Samuel Issac Martin.
At only four weeks his wrinkly skin and expressions were priceless.
It's so easy to forget how little we all once were.  Babies are so vulnerable, yet I'm still amazed at how quickly they grow and develop. From the first day they enter this world they're continually changing and gaining their strength. Truly amazing.

---
For six months I have been on a cruise ship which I can only refer to as something out of Big Brother. I experienced some new things and I do think of my time there as an "adventure".
Despite my intentions to start this blog at the start of my trip, the extremely poor internet connection made it virtually  impossible to put postings together.  My next few posts will be a reflection of my experiences from the first half of the year.
This photograph is of my friend Kartik. Kartik is from Bombay, India and is a Assistant Purser on the Ruby Princess cruise ship. The evening this image was taken Kartik had invited me around to his cabin to photograph the stages of his tattoo being coloured in. I asked him why he chose to have a scorpion tattoo, he replied "it's for my mother, it's her star sign". Kartik doesn't hide how much he adores his mother, in fact he makes it very obvious how important she is to him.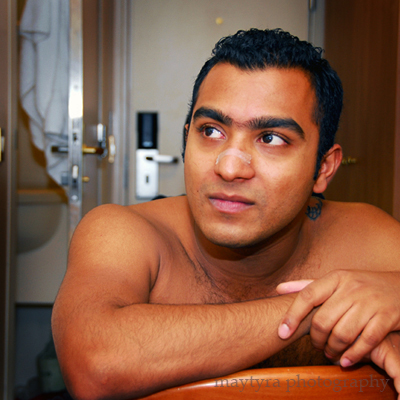 The tattoo was undertaken by a gentleman who works as a cook. There are so many jack of all trades on a ship!
It was carried out under no form of pain killers, apart from the odd beer and cigarette.
Kartik and I  arrived on the same day but we didn't become friends until a month later. We stayed friends throughout my contract, and he was one of the few who helped me cope with the "ship life" I at times struggled to understand.
---